Dining
Food, Family, Friends
"I went to the Ritz with a few friends for lunch and I had the chicken fillet burger – it was the best I ever ate anywhere, absolutely delicious. My friends all had different things from the menu and loved everything. Food really was fantastic – I highly recommend. And very helpful friendly staff!" – Trip Advisor Review
Relaxed and informal, delicious and great value – this is dining at The Ritz. We recently relaunched our restaurant as a family grill room, complete with professional chef, a much-loved menu and friendly service.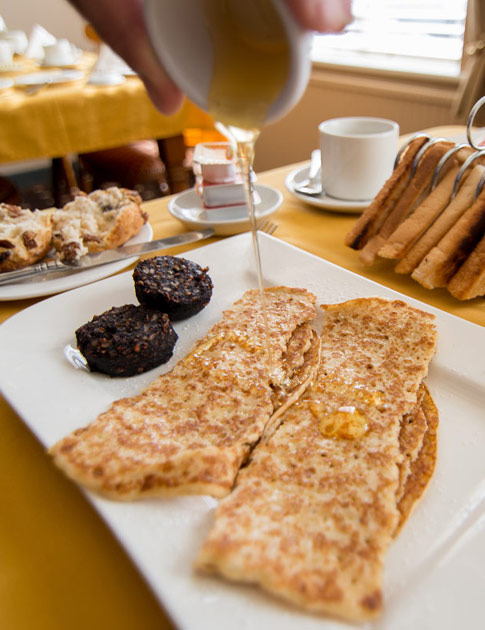 Something For Everyone
Whether it's that steak you've been waiting for, the smack of the sea in the freshest of fish, or big treats for little people – we've got it. In the summer months we offer a set menu along with fresh daily specials.
Pure and Simple
We keep it simple and classic, delivering family holiday favourites – from a hearty Atlantic seafood chowder to harbour-fresh fish and chips.
A Love of Local
Good food at The Ritz always starts with the best quality produce and locally sourced ingredients. We support the food producers of The Burren, following the principle of farm-to-fork – and whether it's the delicate flavour of salmon from The Burren Smokehouse, or the finest beef from O'Connors of Ennis in a hearty Guinness stew – you can taste the home-grown, home-made difference.
Stay Awhile in our Cosy Pub
The lively banter of the locals, warm Irish hospitality and a traditional Irish music session (seisun) – this is a night in The Ritz pub. Singers, fiddlers, tin whistle players and story tellers take the floor – so settle down next to the large open fire, get your orders in and enjoy!
With a large, practically-designed ballroom, The Ritz is a popular venue choice for special occasions – from birthdays to anniversaries and communions. Talk to us today about holding your important event here with us.
Please note: The Ritz does not permit pets on the premises.
We welcome children at the guesthouse.

Plan an Unforgettable Experience Today!
Book Your Stay Now